NEA Jazz Masters Honored in NYC
Class of 2011 includes Hubert Laws, David Liebman, Johnny Mandel, the Marsalis family and Orrin Keepnews
By Lee Mergner
jazztimes.com – 01/12/11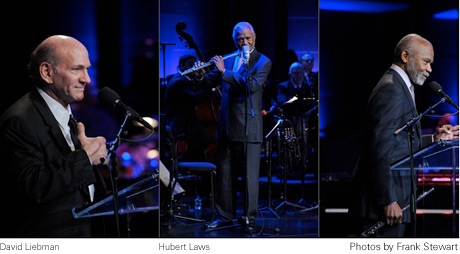 At the annual NEA Jazz Masters awards ceremony held on Tuesday evening at Rose Hall at Jazz at Lincoln Center, the themes of community and family kept surfacing and not just because, for the first time in its history, the organization included a family—the Marsalis family—in its slate of honorees. Besides the Marsalis family—father Ellis, along with sons Wynton, Branford, Delfeayo and Jason—this year's NEA Jazz Masters were Hubert Laws, David Liebman, Johnny Mandel and Orrin Keepnews. Ranging in age from 64 (Liebman) to 87 (Keepnews), this year's class of Jazz Masters came from very different backgrounds but all shared a lifelong love and commitment to the music.
At a panel held early on Monday afternoon, the day before the ceremony, writer and arts advocate A.B. Spellman moderated a discussion with the new class of Jazz Masters (with Ellis representing the Marsalis family). Although Spellman kept asking about the effect of jazz moving away from the private sector of nightclubs to the highly subsidized world of performing arts, the panelists instead preferred to talk about the sense of community in jazz, in the past, present and future. Marsalis voiced concern that the feeling of community with jazz musicians is getting harder in modern times, though Mandel said that jazz musicians will always be like a family. Laws said that for him, "People are more important than things, and family members give us more than anything we can get." He added, "I miss the old days, when we were like family."
The induction of the entire music-playing Marsalis family along with paterfamilias Ellis was not just the elephant in the room, it was the room itself because the event was held in the house that Wynton built, with his own orchestra as the show's band. Any implied quid pro quo aside, it would be hard, maybe impossible, to imagine a better venue for the awards ceremony. From the seating for the awardees behind the stage to the overhead video screen for the pre-taped segments, it looked like the perfect theatrical set for the gala. The meticulously produced show moved along quickly, but still allowed for the occasional accident that makes an award show memorable. The show was exactly two hours without intermission, but it never lagged, thanks to a minimum of pomp and ceremony. After an introduction by NEA chairman Rocco Landesman, each awardee was saluted with a well-produced video clip, introduced by a close associate and then allowed a short acceptance speech, with a musical number closing out their segment. The JALC orchestra fit that role like a glove, whether accompanying one of the inductees or saluting them with a performance of an appropriate composition. The group has benefitted greatly from all its hard work both at home and on the road. Is there a jazz big band around that plays more during the course of the year? The result is a tight unit that neither overplays nor sounds imbalanced. It also features some exceptional brass and saxophone players, such as Marcus Printup, Walter Blanding, Sherman Irby, Ryan Kisor and Victor Goines.
Each of the inductees was introduced by an NEA Jazz Master from previous years, reinforcing the sense of community and family that was so often cited. And many of the previous inductees were there sitting in the first five rows of so, having gotten together for a lunch earlier that day. Like some sort of fraternity or secret society, the Jazz Masters revel in their association with each other, as proud of each other as of themselves. Among the Jazz Masters in attendance were Kenny Barron, Candido Camero, Jon Hendricks, Lee Konitz, Dan Morgenstern, Annie Ross, George Wein, Frank Wess and Gerald Wilson.
As this year's "jazz advocate" inductee (following Nat Hentoff, George Wein and Dan Morgenstern in previous years), producer Orrin Keepnews was generally the last to be mentioned in the list of nominees, but was the first to be honored on this night, as the segments rolled out in the very egalitarian alphabetical order. In that panel session, Keepnews said that "I'm still the same guy that was I was as a former young man scuffling for a way to do my thing." The eloquent producer has always had a remarkable way with words, a very long way in fact. Introduced with warmth and wit by Jimmy Heath, Keepnews characteristically took his time drolly trying to explain how someone like him could come to be called a Jazz Master. He said that he estimates that he's spent about 50 years of his life in the recording studio, but that he is most grateful for the opportunity to work with interesting and talented people whose company he enjoyed. Giving a nod to one of those storied relationships, the JALC orchestra performed Ted Nash's arrangement of "Re: Person I Knew," a Bill Evans composition. Keepnews had a lifelong personal and professional relationship with the pianist, as well as with so many other jazz giants such as Thelonious Monk, McCoy Tyner and Sonny Rollins.
Introduced by Ron Carter, flutist Hubert Laws movingly talked about how honored he was to be included in the company of so many artists he's either worked with or admired. Laws kept his acceptance remarks short, opting instead to spend his allotted time performing a lengthy improvised duet on "Stella By Starlight" with pianist Kenny Barron. If anyone present had any doubts about Laws' qualifications for the lofty Jazz Masters honor, and likely few if any would, he certainly dispelled them in a powerful display of virtuosity and creativity. In the video clip, lifelong friends and associates Chick Corea and Herbie Hancock talked about Laws' dedication to his music and about his unique voice on his instrument. Laws said that when he first picked up the flute as a young child, it took him a few days to get a sound out of the flute, but once he did, he never looked back.
At the age of 64, the hard-working David Liebman is the "baby" of this year's class, and perhaps the most currently active as a working musician. At the previous day's panel, the saxophonist spoke about how important government subsidy is for the arts in general and jazz in particular. "The purpose of a government is to provide four basic services – defense, education, health and culture," Liebman told the audience of jazz insiders. "It's important for this music to get money from the government. Liebman lamented that like most established jazz musicians, he works most overseas in Europe. At the ceremony, Liebman reiterated his appreciation that the NEA and other organizations recognize and support achievement in the arts in this country. For the musical part of his segment, Liebman played soprano on an arrangement by Gil Evans of Gershwin's "Summertime" and "There's a Boat Dat's Leavin' Soon for New York" with the JALC Orchestra, conducted by his old friend (and, Liebman joked, his "boss" at the Manhattan School of Music) Justin DiCioccio.
Songwriter and arranger Johnny Mandel reflected on a lifetime spent working with singers and musicians. In both the informal panel and the video at the ceremony, he told his old joke that when he got started in the business, people thought an arranger was someone who moved chairs around. Introducing a performance of his "Shadow of Your Smile" by Wynton Marsalis and the Jazz at Lincoln Center Orchestra, Mandel excitedly told the crowd that he's been leading a big band of his own these days, after taking over a gig that trumpeter Jack Sheldon didn't show for. Although originally an accomplished trombonist, Mandel in many ways had more in common with a producer like Keepnews than with his fellow musician inductees. Mandel's role has largely been to make other people, in his case mostly singers, sound better. Indeed, a good part of the video segment referred to Shirley Horn's Here's To Life, a record whose exquisite arrangements by Mandel helped to bring that singer from a cult or insider following to a mainstream audience. Mandel joked at his own expense about his apparent Midas touch, telling how back in the '70s he was asked to write something silly and stupid for the sluggish part of a new movie. And when he couldn't come up with anything, he proceeded to get drunk and wrote the melody of "Suicide is Painless," the theme song of M.A.S.H., a hit tune that he called one of the lousiest things he'd ever written. Go figure, he seemed to say about much of his career.
The Marsalis family was the last to be honored and the video tribute made it very clear that father Ellis was to be the focus for the honor. He was introduced by fellow pianist Cedar Walton who said he met Ellis at Dillard University in New Orleans, when both of them were about 19-20 years old. Walton had gone off to college early and Marsalis was attending college classes instead of high school. Although it would be many years before Marsalis devoted himself to jazz education, his relationship with schooling (for himself and others) was established early in his life. In one part of the video clip, Branford talked about how his father's specialty in teaching jazz was in reaching difficult kids who responded favorably to Ellis' unique brand of tough love. Accepting the honor on behalf of the family, Ellis credited his wife Dolores with keeping the family together with her love, devotion and first-rate cooking. "She was a chef and she gave that up when she married me," said Marsalis. "Looking back, I realize how much she sacrificed for a guy like me." He also said that he was part of the nominating committee for the NEA Jazz Masters awards when they first started over twenty years ago, but never expected that he would ever be a recipient. Like all the honorees, Marsalis seemed entirely humbled by the award. The family then performed as a unit, along with Jason Stewart on bass, on "At the House, In Da Pocket," a bluesy Blakey-like tune written by Jason Marsalis.
The night also included a heartfelt salute to four NEA Jazz Masters who died during 2010 – Abbey Lincoln, Hank Jones, James Moody and Dr. Billy Taylor. Backed by the orchestra, Roberta Gambarini and Jimmy Heath performed "Angel Face," a song composed by Hank Jones and Abbey Lincoln. The youthful Gambarini was a sublime choice, and not just because of her pure jazz vocal approach and respect for the jazz tradition. She also had collaborated with both Jones and Moody, who held the Italian singer in high regard.
This year, both the panel and awards ceremony were broadcast via a video webcast, so that a savvy jazz fan could have one of the best seats in the house for an entertaining show that only comes around once a year.
For more information about the honorees, past and present, you can visit the NEA website devoted to the Jazz Masters.