See the article on the NPR website.
View an image of the article.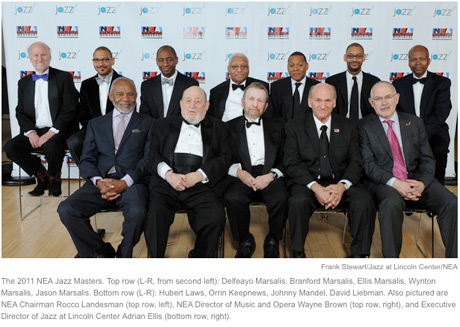 In a concert and ceremony held Tuesday at Jazz at Lincoln Center in New York, the National Endowment for the Arts recognized its 2011 class of NEA Jazz Masters.
The honor is the country's highest award for jazz artistry; those being recognized received a $25,000 grant and an opportunity to perform with the Jazz at Lincoln Center Orchestra. The event was broadcast live through XM Satellite Radio, WBGO-FM and online — with a live video stream — at this page on NPR Music.
This year, the NEA recognized four individuals — three musicians, plus one record producer to be presented the A.B. Spellman Award for Jazz Advocacy — and an entire musical family. Flutist Hubert Laws and saxophonist David Liebman are known largely for their playing over multiple decades; Laws has extensive experience in many styles, while Liebman is also a noted educator. Johnny Mandel started his career in music as a jazz trumpeter and trombonist, but is primarily known as a composer and arranger for jazz, pop and films. Orrin Keepnews produced and reissued many classic recordings for his own Riverside Records and several other labels. And there's The Marsalis Family, this country's unofficial first family of jazz. Father Ellis Marsalis, the great pianist and teacher, helped to raise the saxophonist Branford, trumpeter and composer (and Jazz at Lincoln Center Artistic Director) Wynton, trombonist Delfeayo and drummer Jason.
The Jazz Masters were celebrated with performances by The Jazz at Lincoln Center Orchestra, including special collaborations with Liebman, Laws and the Marsalis Family. The orchestra, with special guests — saxophonist Jimmy Heath and vocalist Roberta Gambarini — also recognized Jazz Masters who have died in 2010, with a tribute to Hank Jones, Abbey Lincoln, James Moody and Dr. Billy Taylor.
Since 1982, the NEA has recognized 119 Jazz Masters (or group awards), all of whom were living at the time of their selection. In addition to the one-time grant, recipients are also invited to participate in NEA-sponsored live performances and education programs across the country.