BIOGRAPHY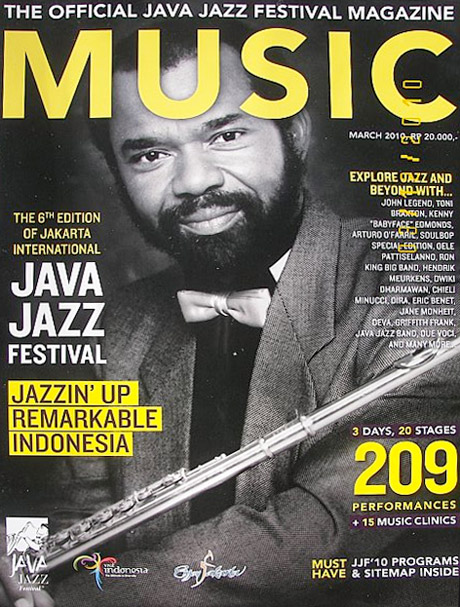 Internationally renowned flutist Hubert Laws is one of the few classical artists who has also mastered jazz, pop, and rhythm-and-blues genres; moving effortlessly from one repertory to another. He has appeared as a soloist with the New York Philharmonic under Zubin Mehta, with the orchestras of Los Angeles, Dallas, Chicago, Cleveland, Amsterdam, Japan, Detroit and with the Stanford String Quartet. He has given annual performances at Carnegie Hall, and has performed sold out performances in the Hollywood Bowl with fellow flutist Jean-Pierre Rampal and was a member of the New York Philharmonic and Metropolitan Opera Orchestras. In addition, he has appeared at the Montreux, Playboy, and Kool Jazz festivals; he performed with the Modern Jazz Quartet at the Hollywood Bowl in 1982 and with the Detroit Symphony in 1994. His recordings have won three Grammy nominations.
Mr. Laws has been involved in unique projects such as collaborations with Quincy Jones, Bob James, and Claude Bolling for Neil Simon's comedy California Suite, a collaboration with Earl Klugh and Pat Williams on the music for How to Beat the High Cost of Living: and film scores for The Wiz, Color Purple, A Hero Ain't Nothing but a Sandwich, and Spot Marks the X.
There are 23 albums in Mr. Laws' discography for such record companies as: Atlantic, CBS, CTI, including: "My Time Will Come," and "Storm Then The Calm" for the Music Masters record label.
Session work also remains a staple of Hubert Laws' schedule, and includes collaborations and recordings with such artists as Quincy Jones, Miles Davis, Herbie Hancock, Chick Corea, Ella Fitzgerald, Sarah Vaughn, Freddie Hubbard, Paul McCartney, Paul Simon, Aretha Franklin, Lena Horne, Sergio Mendes, Bob James, Carly Simon, Clark Terry, Leonard Bernstein and the New York Philharmonic.
In addition, Mr. Laws maintains his own publishing companies, Hulaws Music and Golden Flute Music, and he founded Spirit Productions in 1976 to produce his own albums and those of promising new artists. He was selected the THE #1 FLUTIST FOR 24 YEARS: Down Beat readers' polls ten years in a row and was the critic's choice seven consecutive years. Currently awarded Downbeat #1 flutist 2007, 2009, 2010, 2011, 2012, 2013, 2014
Received National Endowment Jazz Masters award 2011.
Born in Houston, Mr. Laws' musical education came from various sources. He grew up directly across from a honky-tonk called Miss Mary's Place, his grandfather played the harmonica, and his mother played gospel music on the piano. His classical training got under way in high school. He later enrolled in the music department at Texas Southern University. During this period, he arranged to study privately with Clement Barone who Mr. Laws considers had a profound effect on his development. From there he traveled to Los Angeles with the Jazz Crusaders where he won a scholarship to the Juilliard School of music in New York City. Mr. Laws completed his studies and obtained his degree at the Juilliard School of music in New York City under tutelage of the renowned flutist Julius Baker.
MUSICAL BACKGROUND
Hubert's musical education has always been an amalgamation. For starters, his boyhood home was directly across the street from an honest-to-goodness honky-tonk, Miss Mary's Place, which still sits on the same spot in Houston's Studewood section. His grandfather played the harmonica and often entertained as a one-man band. His mother, Miola, played gospel music on piano.
The second of eight children in a musical family, Hubert grew up playing rhythm and blues and gospel at dances in the neighborhood. Brother Ronnie and sisters, Eloise and Debra, have all made their mark in the music industry, while sister Blanche has devoted her talent to gospel singing and brother Johnnie has contributed his voice on Hubert's recordings. It's fitting that Hubert's fourth album for Columbia was entitled Family, featuring almost the entire Laws clan.
Starting out on Piano then Mellophone and alto sax, Hubert picked up the flute in high school while volunteering to fill-in on a flute solo performance with his high school orchestra. Music teacher, Clement Barone, is credited with teaching Hubert the fundamentals. During his early teens, Hubert was exposed to jazz by high school band director Sammy Harris at Phillis Wheatley High School. He enjoyed the freedom of improvisation and the creativity allowed by jazz and began playing regularly with a Houston group known variously as the Swingsters, the Modern Jazz Sextet, Night Hawks, the Jazz Crusaders, and more recently, the Crusaders.
After high school, Hubert enrolled in the Music Department at Texas Southern University. After two years there he left with the Crusaders for Los Angeles. This soon became a point of departure to the Juilliard School of Music in New York. Winning a scholarship that would cover the cost of tuition in 1960, Hubert left for New York in a 1950 Plymouth Sedan with $600.00 in his pocket. Fondly remembering the moment he realized his savings would not cover the necessities of life in New York, Hubert recalled, "It was the fall of 1960. I was down to my last fifty bucks and wondering what to do when the phone rang and it was a call offering me my first job at Sugar Ray's Lounge in Harlem. Times were tough then, but, I haven't looked back since."
Studying all day every day in class or with master flautist Julius Baker, evenings were devoted to gigging for support. Soon Hubert was playing with the likes of Mongo Santamaria, Lloyd Price Big Band, John Lewis of the Modern Jazz Quartet, the Orchestra USA, and the Berkshire Festival Orchestra at Tanglewood — summer home of the Boston Symphony Orchestra.
Recording session work became a staple of Hubert's schedule and included Quincy Jones, Paul McCartney, Paul Simon, Aretha Franklin, Lena Horne, James Moody, Sergio Mendes, Bob James, Carly Simon, George Benson, Clark Terry, and J.J. Johnson. During those tough times, the ability to play R&B and jazz enabled him not only to survive, but to thrive. Hubert believes musicians would do well to learn how to play in a variety of musical idioms.